ABOUT
Our objective: To discover Lyon in a new light and to navigate in the heart of an exceptional heritage.
BEFORE YOUR SESSION
In order to have a pleasant time, choose the right outfit :
Sportswear adapted to the nautical activity (sneakers, light pants/shorts, leggings, shorts, bra, synthetic t-shirt if possible (cotton keeping the cold, it is to be avoided), windbreaker in case of capricious weather or wind)
A change of clothes
Closed sports shoes suitable for water
Windbreaker
Water bottle
Sun protection (hat, cream…)
Waterproof bags and pouches are at your disposal to allow you to take your phones with you on the water and immortalize these nautical moments!
Wearing a bathing suit is not mandatory and we leave to the 90's the concept of miss and mister wet t-shirt. As some people say: just come as you are!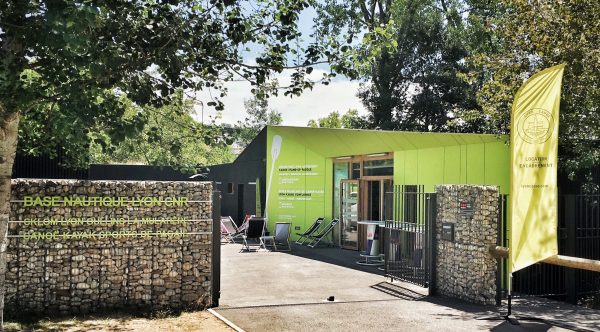 ACCESS
The base is located near 4 rue Jonas Salk 69007 Lyon in the heart of the Parc de Gerland.
Take public transport :
Tramway T1 arrêt : Halle Tony Garnier
Vélo'v station : Halle Tony Garnier
CHECK-IN
We recommend that you come 15 minutes before the start of the session to take the time to change and prepare yourself.
Come to the start of the activity or to the reception desk before your session and sign the attendance sheet. Do not hesitate to ask our team any questions you may have!
WATER
You will need to drink! You have the possibility to fill your water bottle on our nautical base.
In case you forget, we offer water bottles with our colors for sale on site.
PERSONAL BELONGINGS
At the departure of our nautical base, you will be able to leave your things in our lockers! No need for a padlock, they are coded.
If you are going on a course with an upstream departure, our team will collect your belongings and keep them safe and warm until you arrive at our base, in exchange for a unique number bracelet. You will be as light as air on the water with the bare minimum in the waterproof bag provided (phone, sun cream, glasses…).
SHOWERS
In the locker rooms, you will have access to showers (individual and common).
Just remember to take a change of clothes and a towel to leave dry!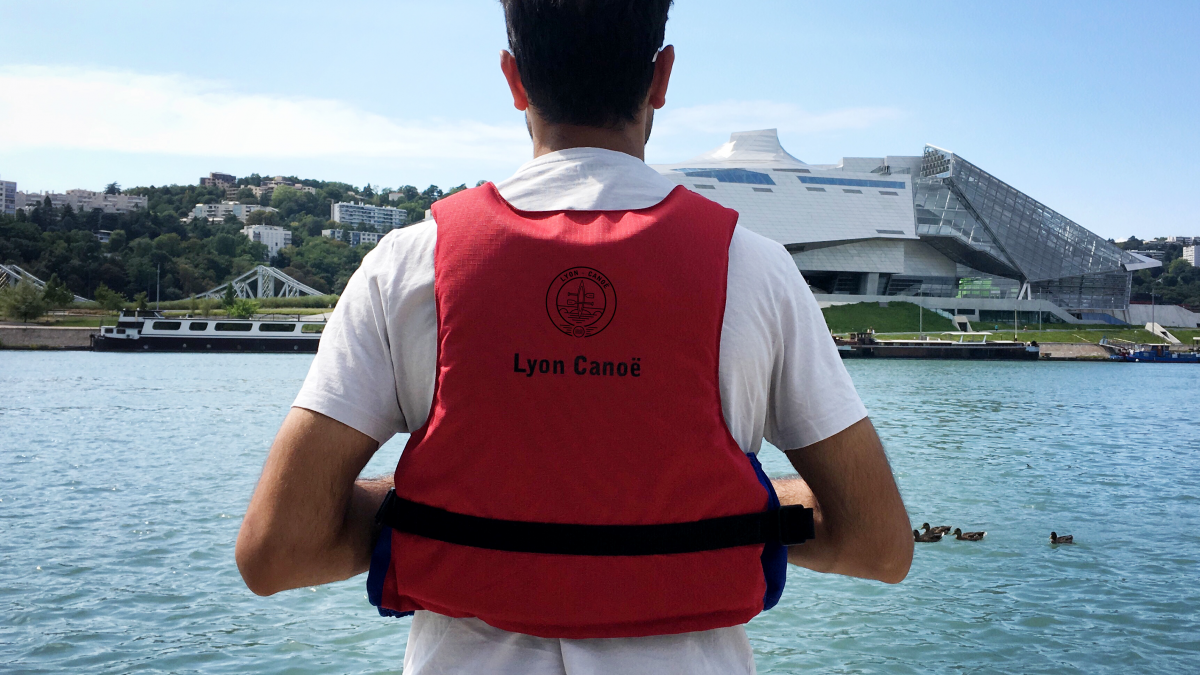 Everyone must comply with the following rules :
Be able to swim 25 meters and immerse yourself
Wear a life jacket and closed shoes during the entire activity
Comply with the instructions given by the supervisory team
Not to be under the influence of any substance that could impair judgment or physical abilities (drugs, alcohol, medication…)
Be aware of the specific nature of outdoor activities that expose you to unusual conditions (isolation, weather conditions, immersion, cold, sun, etc.)
Not have any medical contraindication to the practice of a physical activity
Have a parental authorization (if minor)
In Canoe, Kayak or Stand Up Paddle, we provide you with the best equipment !
Before your experience, you will be able to choose with our team on the spot the boat the most adapted to your tour according to your desires, your level and the climatic conditions.
Our fleet includes :
Open Canadian canoes: Want to go for a ride on the water like Yakari or Graine de Bison? This is the boat for you! Be careful though, although very light, this one is for experienced paddlers.
Kayaks "sitting on top unsinkable. Our safe bet? That's them! With these kayaks, there is no risk of drinking the cup!
Stand Up Paddle : Standing on your board, come and test your balance on the Rhône.
As they say "The more the merrier", that's why our boats are mainly two-seater canoes or kayaks (of course it's always possible to complete with single-seaters on request).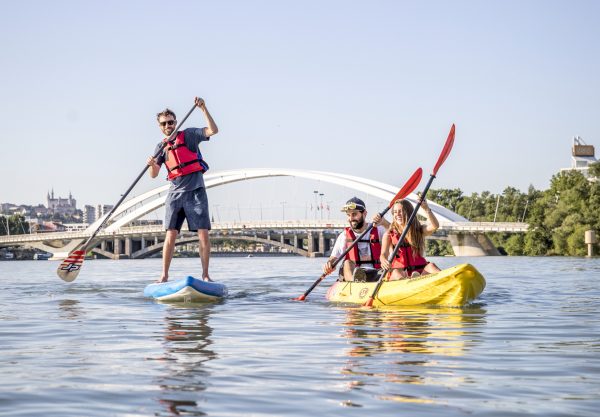 Conditions of cancellation or postponement:
Lyon Canoë is the sole judge of the conditions favorable to navigation and can cancel or adapt the service according to hydrological and meteorological conditions (wind, storm, variation of the river flow, etc….).
In case of impossibility of the practice, a date of postponement could be proposed to you.